Navigation article:

20 September 2012
Guest Post – Deborah – Franklin Covey "
"
Simplicity" Planner Pages
I'm very excited to have another guest post on Philofaxy. My first was a review of my binder, an Ostrich Filofax. You can see that review here. Thanks a bunch, Steve! I feel like I'm in the "
"
Big Leagues" now!
I thought I would do a quick review of the new planner pages that I'm using in my Filofax.
Franklin Covey "
"
Simplicity" Planner Pages
About a week ago I began searching for 2013 planner pages. I wrote a little bit about it here [hyperlink to: http://www.thoughtsandexploration.com/2012/09/new-planner-pages-for-my-filofax.html]. I've decided to move away from my Filofax week-on-two-pages format in cotton cream to Franklin Covey (FC) week-on-two pages. I use a personal size Ostrich Filofax binder so I chose the Compact size refills from FC. Here are the Simplicity Series planner pages that I chose: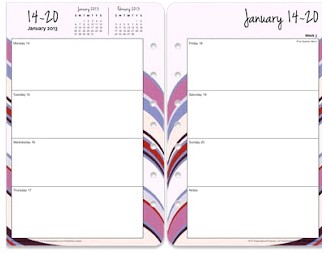 I read about using FC refills in a Filofax on J's blog – The Crazy Life of J
I moved into the new pages as soon as I got them in the mail. Here is what I found.
As many have said, the FC pages are a bit wider than the Filofax pages. The ring hole spacing is exactly the same between FF Personal and FC Compact. Knowing that the pages were going to be wider, I immediately moved my Diary section to the back. I also moved my pen from the pen loop (on the right) and put it into a Flex pen loop on the left side of my binder. I have a second smaller pen clipped to the credit card slots. I crossed my fingers hoping that the page overhang was going to be minimal, took a deep breath and closed my binder…no such luck.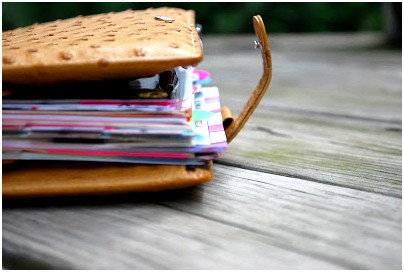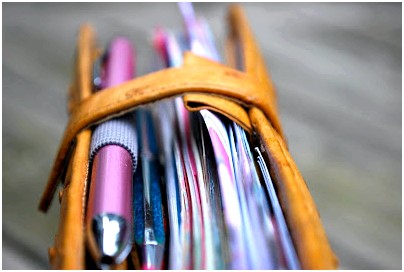 Yup…not going to work! Hmmmm, what to do now?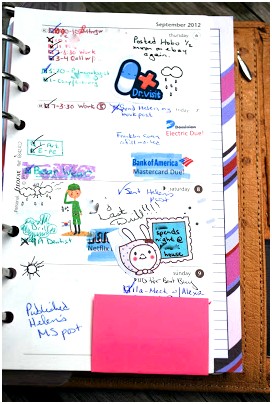 Okay, these pages aren't going to defeat me! I was determined to make them work so out came my scissors and snip, snip – off went the right-most margin (only the colorful piece). This worked wonderfully and didn't take away any precious writing real estate!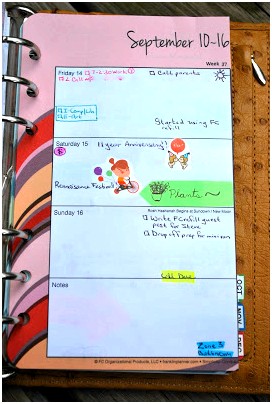 Now the pages fit just fine. They do go right up to the edge of the FF when closed but I feel like they are still protected. Very happy!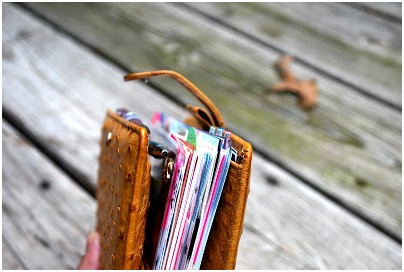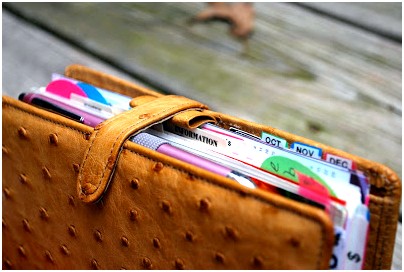 So now that they fit, lets compare the actual pages: FF vs FC.
The most obvious differences, FC has: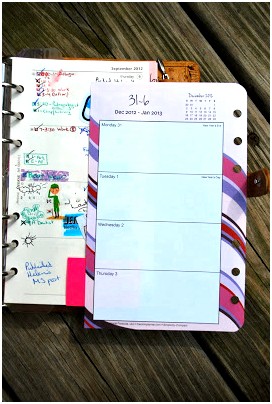 A larger top margin with larger (and prettier) font showing the date
A Monday start instead of FF's Sunday start
The "

"

Notes" box is at the end of the week instead of at the beginning

The day and date on the right page is printed on the left of the page and not the right like FF's pages
Color, color, color!
Two other major format differences: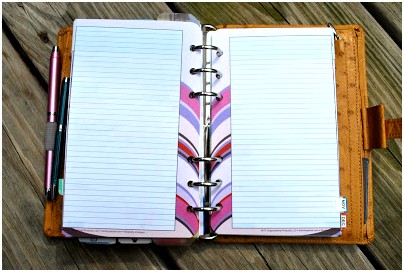 The months in the FC refill are separated by a lined page on each side. So, for example at the end of September you'll find a lined page (on the backside) and another lined page at the beginning of the following month. Picture each month "
"
sandwiched" between lined pages. Nice!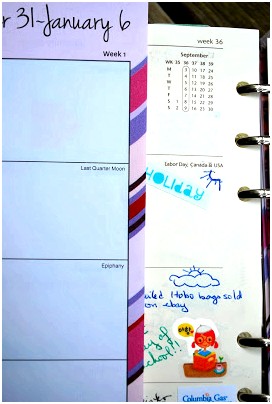 The "
"
day boxes", for lack of a better term, are taller on the Filofax pages than on the Franklin Covey ones. So, yes, those with need for the FF sized day boxes may feel the FC ones to be a little tight. Width-wise, though, they are both about the same in this format.
I bet you're wondering about the paper quality. Both seem to be comparable, well…kind of. I use ballpoint, rollerball, pencil and fountain on my diary pages. I did a test page of both. The left shows the Filofax paper and the right shows the Franklin Covey paper.
The one huge difference on the front is the increased feathering of the fountain pen ink on the Filofax paper. Actually, all the lines of the different pens/inks on the Franklin Covey paper are sharper than on the FF paper. The feathering of the fountain pen looks really bad on the FF paper! My camera is failing to clearly show this but trust me the writing looks better on the FC page.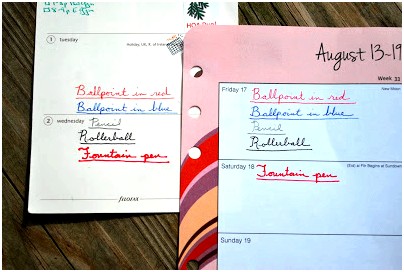 And now the back.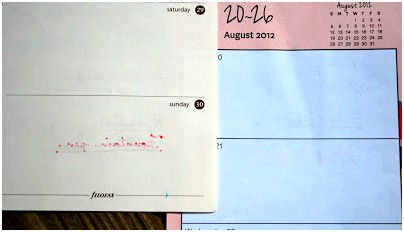 There is minimal ghosting on the FC paper as well as the FF paper EXCEPT for the fountain pen on the FF paper. There is horrible bleed-through there. The Filofax paper falls short with fountain pens. Franklin Covey wins on that point with a sharper line and minimal ghosting. I have no reservations with using my fountain pens on the FC paper.
I think I'm a convert. I'm really going to like using these Franklin Covey pages in my Filofax. After cutting them down a teeny bit they're perfect. Now I get my daily fill of color and design in my diary pages. And here's a surprise, I'm discovering that I like having the diary pages at the back of my planner. I think it's just because it's a change. It's nice to change every once in a while, isn't it??
Thanks again, Steve, for letting me review my new planner pages for this site!
Thank you Deborah for a great review, it is always interesting to see alternative diary formats in a Filofax
31 comments:
Thank you for such an interesting (and timely) post. Like many others here, I'm right in the middle of my 2013 planner pages decision, and I've also been considering using FC, mainly because I'm interested in it because of the philosophy which lies behind their system. The late Dr Covey's writing helped me a lot when I was in management and struggling with work/non-work balance, and I haven't forgotten. Meanwhile, someone has kindly agreed to send me over a set of FF 2013 Personal diary inserts in a format which can't be purchased in the U (and which can't be ordered online, due to the Wonderful Filofax Website Problem about which we all know too much already)
I can see now that the FC inserts aren't going to work in my Personal Malden, so I shall have to bring that into the decision process. there's a possible answer on the horizon should I want to *really* trial it out. I'm not one for cutting, trimming and punching, very much. )
The other option I'm considering (at Alison Reeves' suggestion) is to try Daytimer inserts. Although not so much of a 'system', the daytimer seem quite interesting, and both the FC and Daytimer beat Filofax on paper quality hands down. (Actually I could print straight onto toilet paper and hat would also beat FF paper quality, but let's not go there again!). Suffice to say, your helpful photos of the bleed-through, or lack of, were most enlightening. I use fountain pen, pencil (for my diary), and my favourite Bic Medium Biro (yes, really) for everyday.
Incidentally, I saw one of the ostrich binders in the flesh for the first time on Tuesday – what a great binder it is. Such a shame they have to be shipped from the US. I don't think I would use one myself, but they certainly look impressive.
Thanks again – I'm sure many people here will find this helpful, and I look forward to the continuing dialogue about 2013, and especially alternative-to-Filofax, diary inserts.
It was lovely to meet you and introduce my red Ostrich to you! Just to let you know – Time Systems have a reasonbly priced Ostrich style binder in dark brown. Sizes are Compact (about FF Personal size) and A5 – I'm sorely tempted!
Does anyone know how Time System ring size compares to FF?
Thanks also for showing me your TM planner – it was like a trip down memory lane. I loved the clean 'simplicity' of your set up in your FF – deceptively simple as underneath lies a solid time management philosophy. I revisited the Covey's 7-habits last night and am going to integrate that philosophy into my system.
Thanks again for your template. I'm going to print my 2013 TM custom design calendar on plain Paperchase paper (the one with a coloured stripe down the edge. That way, I'll have the perfect diary for my needs – TM layout with an elegant business-like touch of colour.
I'll be showcasing this new design in my blog-swap with you, that I have on my agenda to write tonight. I'll send you the template.
Time System A5 is a perfect size. Their compact is way off .
David; just FYI, the DayTimer paper (at least the classic green on white formats) is absolutely horrible quality. It's very absorbent and thin, so everything shows through and fountain pens bleed though terribly, quite a lot worse than what you see on white filofax paper.
DayTimer is quite systematic and gives you a lot of structure with space for actions, appointments, and work tracking. No one else seems to handle the tracking of actual work through the day as well as DT. In their "desk" size 2PPD, the notes page is structured to note the client name, matter worked on, and time (in 1/10 hour increments). A lot of people in law offices used this format until the recent, almost universal, switch over to online billing/tracking software.
I suppose that the major philosophical difference between FC and DT formats is that DT is more focused on record keeping and FC is somewhat more focused on planning. I find in my work that the record keeping aspects of DT are very useful, and it works fine for the planning I need to do.
Thanks Josh, that's really interesting, and as I'm an accountant – not that far removed from the legal profession in terms of time recording – I'm let to think there might be something in it worth investigating further. Do DT publish some kind of set-up book/booklet that comes with their stuff? I know they have a few basic setup guides on their website, but they do seem *very* basic, and from what you say it seems there probably is some kind of user guide which would be worth getting hold of – if you know how/where and could advise.
Thanks for the heads up about paper quality as well – much appreciated.
What size do you use, the desk size? Or the one that equates to the Personal FF?
Good luck on your search! I used the FC system with the 2ppd format for a few years and it worked at the beginning of the year but then as the year went on, the system was just a lot of work to keep up with so it never failed. I would slowly stop using it. I love the idea but I just can't seem to put that extra effort.
I also thought about using Daytimer but I couldn't find the 2ppweek format that didn't have unlined boxes. The lines were too confining for me. I've also thought about the Dodo Pad but the grid is just too small. I think I made the right choice for me.
So you were able to see Cloudberry's Red! I almost hope that I never see one in red because something tells me that I'd then "need" that one as well!
I'm glad that you enjoyed my post! Would love to hear the outcome of your 2013 page search.
David, the original Time Power system that was taught with DayTimer is in the book Time Power by Charles R. Hobbs. I peeked and it is available on amazon.co.uk. This is an old book (1987) and recently has been republished, not sure with any changes. There was a dispute on this side of the pond whether Hyram Smith, founder of Franklin Quest, stole his ideas from Hobbs. Time Power is a bit less cult-like than Franklin Covey, which emerged when Stephen Covey joined Franklin Quest. Recently FC sold off their planner unit and it is now Franklin Planner and sold with "Five Questions" as their system rather than "Seven Habits."
Mstraat thanks so much for that info. I've looked up the title in question, and there is a book of identical title by self help guru Brian Tracy which is in print. The Hobbs book seems to be only available through second hand dealers at a regrettable £57 new or a remarkable £0.01 second hand! Quite a difference.
I'm on holiday for the next fortnight so I won't be doing anything work- or time management- related (other than my usual 'thinking time' and some note-making), but I might pick up on this when I'm back. Thanks again!
Gah! Found the new edition further down the page
You keep showing me that BEAUTIFUL ostrich and it makes me want it more and more
Why don't you come and visit it?? 🙂
Really interesting thanks Deborah – I've ordered some FC pages to try, (reduced April 2012 to Mar 2013 which are reduced). I ordered them over a week ago and am still waiting so I'm not that impressed with their delivery which isn't a great start!
I'm looking forward to trying them out – I have a Domino which I will try them in – hoping they may fit better in there.
David – I'm not convinced the paper quality is as good in the day timer – I'll send you some old sheets along with some sample FC ones when they turn up – just for comparison. Also the line spacing is very narrow – not good for me as I write quite large, but probably not such a problem if your writing is small.
Thanks Alison I appreciate it. my writing *is* quite small (especially when using the Bic biro!), so that might suit me. Paper quality seems to be a big issue right now, for everyone. I hope some manufacturers, somewhere, are listening! i *do* like the FF Cotton Cream – although not perfect, it's a lot better than the FF standard paper, and if you can bear to use the severely restricted choice of diary formats to get Cotton Cream throughout the binder, really looks good.
Thank you, Alison. Yes, the shipping time is a bit crazy. I was told it could take 8-14 days to arrive. I've had things from overseas arrive faster than that!
Good luck with your trial of the pages.
Mine were discounted as well since it was a July 2012 start.
Aaaaaargh. Who turned the verification module back on? I HATE this thing.
Had a string of Spam messages on this post and another one from the same bot.
Awww damn. I've already bought my 2013 calandars 🙁 I love these!
Awww, what a shame you had to lose some of the colourful edging. I used to use FC until they discontinued it. I found some of their designs althogh pretty, took up too much of the writing area. I'm thinking of using their notepaper as it would be nice to get some colour into my FF.
BTW – it was 'Red' that David saw in the flesh on Tuesday as we met up for a coffee.
Your pictures are lovely – what camera do you use?
Cloudberry, I did hem and haw over cutting that little margin of color but in the end the sacrifice was worth it.
My eye still wanders to a Red. I love my Buttercup binder so much, I can only imagine how infatuated I'd be with a red!
Oops. Thanks for the compliment on my pictures. I finally pulled out my "good" camera instead of using my phone's camera! Those pictures were taken with a Nikon DX 90.
Just puzzled by your comment that FF weeks start on Sundays. I've never ever had an FF week start on Sunday, it's always Monday? Makes me wonder if the US sells different weekly inserts??
I was thinking the same thing, Jotje. I'm in the US, and my cotton cream weeks always start on Mondays. Even in the pictures here, it looks like the week is starting with Monday and ending with Sunday.
Sorry guys! You are completely right. My brain was a bit slow I guess. Having the Notes block at the end of the week on the FC pages vs at the beginning on the FF pages had me all loopy.
I had gotten used to Monday being my first block of the week (FC) so when I wrote my review and quickly scanned the pages to list the differences I saw Monday as the second block on the FF pages and my mind automatically assumed that the first block on the FF page was Sunday.
Sorry for the confusion.
Great post! I used to use Franklin Covey before Filofax and wasn't happy with the binders. A few months back I tried the FC day per page Monticello inserts with my Malden. They fit pretty well, and even though the paper quality held up to various inks, the pages still ripped out easily. I gave it another try last week and ordered different FC inserts. After 6 days of use one of the pages ripped out. I must be extremely tough on my Filofax! None of the Filofax inserts every came out of my binder before. Anyways, I know other Franklin Covey users have not had this problem. Seems to be only me. Either way- love their inserts. Dislike the Filofax layout- not enough space.
Please excuse any typos. I just tried to edit the text and it wouldn't work!
Thanks K! The ripping FC pages is peculiar. I haven't experienced that problem before with either FC or FF. Are you against using reinforcements? It would be a pain but might be worth it. Just a thought.
I have been using the Franklin Covey Compact pages in my personal Malden with only one problem–the June and July monthly tabs are a little bent when the snap is fastened (but they snap back when my planner is opened). With the extra writing room, choices of beautiful & colorful inserts, plus the heavenly paper quality, this isn't that big of a deal. I would recommend the Franklin Covey line of inserts to anyone with a Malden–other Filos, I don't know if the paper would be too big. If you are a little leary of ordering them, cut out comparable sized paper and tabs, punch and see if the size would work for you.
Great suggestion, Alice. I don't use the FC tabs so I don't foresee this as a problem for me. I use post-it tabs cut in half lengthwise and then use my label maker to print out the month. Not having the tabbed month pages saves me a little bit of room. My binder is pretty full as it is.
Wow! Wonderful comparison review! Thank you Deborah for this!
Thanks, Lime Tree! I'm glad that you enjoyed it.
Just wanted to add for the A5 Filofax users: on the Franklin Covey website you'll find a PDF with 31 undated sample planner pages. You can print them on A4 paper then cut it in half and punch it for your Filofax. Which would also give you the option of nice quality paper! The numbers are a bit off, after printing, but you could correct them by hand I suppose.
It's fun to see someone else who keeps their calendar in the back! I have always kept mine there and feel a bit like the "odd (wo)man out" whenever I read these posts about how others set up their Filos. I like mine in the back because when I open to the current date, that ends up to about the middle of the book therefore making the surface even.
All content on these pages is the intellectual property of the author, unless otherwise stated, and may not be used in any form or reproduced under any circumstances without the authors permission.
Do not post links to images on this blog on Pinterest Pinning violates copyright.
Please see our commenting guidelines before commenting on posts.
Copyright Philofaxy
2005-2016
Search This Blog
Social Media
Subscribe To
Follow Posts by Email
Featured post
Width Guide
Whilst doing research in to B6 organisers , I was looking through past postings on the Van der Spek Facebook group and came across a vari.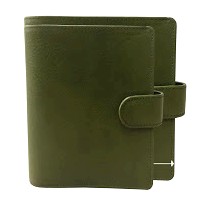 Featured Product
Steve Morton is a participant in the Amazon Services LLC Associates Program, an affiliate advertising program designed to provide a means for sites to earn advertising fees by advertising and linking to Amazon.co.uk and Amazon.com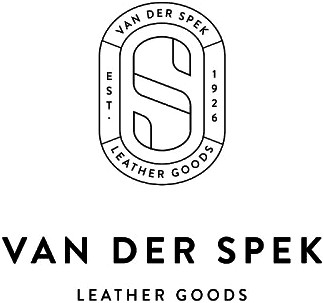 Chimewemwe
Linking back to Philofaxy
All content on these pages is the intellectual property of the author, unless otherwise stated, and may not be used in any form or reproduced under any circumstances without the authors permission.
This blog is not affiliated with Filofax or any other company mentioned in it. All trademarks used here are the property of their owners.
Copyright Philofaxy 2005-2018
All times on the blog are East Coast USA time (-5hrs UK time)
Source: philofaxy.blogspot.com